Solidarity Kitchens
https://ourcivicspace.org/wp-content/uploads/2021/04/Solidarity-Kitchens-1.jpg
1040
780
our civic space
https://ourcivicspace.org/wp-content/uploads/2021/04/Solidarity-Kitchens-1.jpg
Solidarity Kitchens
The COVID-19 crisis is affecting the whole world and bringing a new balance to the worldwide society. Unemployability grows, the economy of most countries are hitting their worst recession in years, and of course, the ones who are suffering the most are the common people of most countries, sometimes even with difficult access to food.
Having that in mind, protection networks to help those fragile layers of society are being created in Brazil, the center of the pandemic crisis at the moment. Those projects aim to help the ones who need the most in these dark times, filling the gaps that the State was supposed to occupy.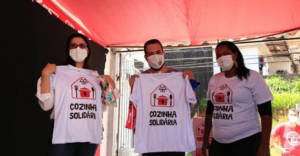 The "Movimento dos Trabalhadores Sem Teto " (MTST) – Movement of the Roofless Labourers, in English – recently assembled a huge project that aims to create 16 different Solidarity Kitchens in 11 different states of Brazil. The one in the city of São Paulo was opened in the middle of March and counts with the help of famous figures in the South American country, such as Paola Carosella, an Argentinian Chef from MasterChef Brazil and Guilherme Boulos, MTST leader and militant for the minority causes. The aim of each kitchen is to give at least 100 meals a day, free of cost, to the ones in need. Soon enough every kitchen will be open and running.
Regular people are creating several programmes and taking their civic duties to a whole other level. Talal Al-Tinawi, a Syrian refugee now living in the city of São Paulo is a the restaurant owner who suspended the operation of his establishment to, according to him, do something in return to the people who welcomed him when he most needed it. He was offering meals free of charge for the elders who could not pay for a proper meal during this difficult period.
Also during the pandemic, Ratos de Porão's (famous Brazilian punk rockband) lead singer João Gordo and his wife Vivi Torrico created a project called Solidariedade Vegan – Portuguese for Vegan Solidarity – where they distribute free meals for the homeless, the ones who are suffering the most during this pandemic, in São Paulo. They aim to serve six thousand meals a month.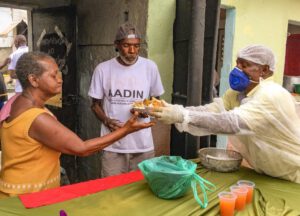 Solidarity, cooperation and mutual aid are more than necessary in this tragic period. Suffering, tragedy and starvation cannot become a normal thing in any modern society. We need to become even more human and compassionate to each other in times of need, and that is why these kinds of projects are so important.
As Boulos said in a recent intreview: "Solidarity in a moment like this is the difference between people beeing able to eat or not. In a moment that we have so much despize for life in our society, low empathy levels, solidarity saves. It may not be enough to solve the hunger problem but it is what we can do now, it is a seed."
You can find out more about those projects through the links below!
Written by INEX